Bauk Ja, une activiste Kachin, a été arrêtée le 18 juillet par les militaires birmans parce qu'elle milite pour le droit des paysans et le droit à la terre en Birmanie. Détenue au commissariat de police du canton de Hpakant, au centre de l'État Kachin, elle attend son procès. (Lire le communiqué en entier).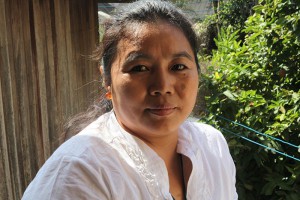 =) Copiez coller le message suivant sur votre boite mail et envoyez le à l'adresse : amboco@gmail.com
Objet du mail : Political prisoners
__________________________________________________________________________
Dear President Thein Sein,
I am writing to you today regarding political prisoners in your country. Despite the release of high profile political prisoners, hundreds of political prisoners remain in jail, and more activists are being arrested.
For example, a Kachin activist,Bauk Ja, has been arrested on false charges and she is now being detained in Hpakant Township, Karmine ward. She is a member of the National Democratic Force (NDF) political party, and a campaigner for farmers' rights and land rights. She has been charged with three different counts and is now facing trial.
The case of Bauk Ja is an example of how the issue of political prisoners is still a big problem in the country. It has been two years since you became President, and it is very disappointing that hundreds of political prisoners remain in Burma's prisons.
It is now clear that the political prisoners review committee will not be able to solve the problem of political prisoners. Therefore, I would like to urge you to take the following action to help solve the problem of political prisoners once and for all:
1.  All political prisoners should be released immediately and unconditionally.
2. All repressive laws should be repealed or revised. Until then, there should be a suspension of the application of repressive laws.
3. A permanent and genuinely independent review mechanism with the involvement of international experts should be in place to investigate cases where people were jailed unjustly, and secure their immediate, unconditional release.
4. Compensation and rehabilitation programs should be provided for former political prisoners after their release.
5.  Criminal records, which all former political prisoners have, should be removed and they should be allowed to continue their studies and their previous careers without restrictions.
6. There should be some form of justice, accountability and reconciliation. Apologies should be provided to the activists who were wrongly jailed.
In conclusion, Burma won't achieve peace and national reconciliation while political prisoners remain in jail. Therefore, I urge you to immediately release Bauk Ja and all remaining political prisoners unconditionally.
Thank you.
 _____________________________________________________________________